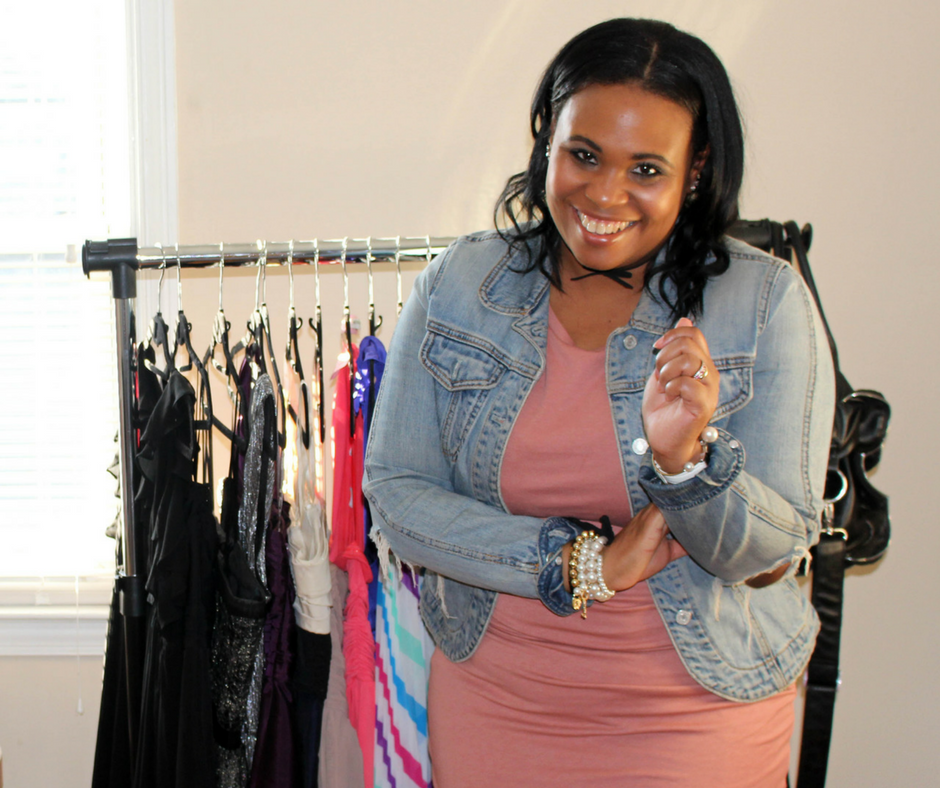 The way you show up matters
I help women to show up as their most amazing selves in person, and brands to show up at their most marketable online. How do I do that? By giving women easy wardrobe options and decreasing the time they spend wondering what the heck to wear; and by giving brands simple tips that will improve their social media strategy, better their online appearance and increase buy-in with their customers.
meet Kim
Kim is a Personal Style Consultant and Content Creator who believes the way you show up matters, and she is dedicated to helping both individuals and brands put forth their very best image.
As far back as she can remember, Kim acted as personal stylist for family and friends, helping them to get ready for special events or giving tips on how to style things they couldn't quite figure out how to wear. This eventually led her to write her first blog, Chic Mommy, Cool Kid (CMCK), where she shared advice on how to look fabulous as a mom, and make your kids look great too! After writing there for three years CMCK grew into what is now Pish Posh Perfect.
Through Pish Posh Perfect, Kim has been featured at sites like Independent Fashion Bloggers (IFB), POPSUGAR Select Fashion as a Blogger of the Week, SheaRadiance.com as a "Shea Radiance for Target Tastemaker", and Essence.com; and she's worked with brands including Cosmetic Surgery Center of Maryland, Debbie Merle Designs, Joules Clothing, KIND Snacks, Kohl's Department Stores, Modcloth, ShopStyle, Pantene and Warby Parker.
Kim's passion for helping every day women achieve their style and beauty goals led her to begin offering advice through contributing articles on outlets such as Examiner.com's Style & Fashion channel, Madame Noire and TransitioningMovement.com; and soon she was even managing articles and features as Editorial Director for beauty brand, COCOTIQUE. As social media began to change the landscape of marketing, Kim realized that brands needed someone to help them effectively convey their messaging in a new way online, and she began consulting as a copywriter, digital marketer and social media manager for clients in the beauty, e-commerce, food, hair, jewelry, shoe, travel and wedding industries.
In 2014, Kim's eye for style earned her the opportunity to create two featured shops as a guest editor on ShopStyle.com, and in that same year, she was hired as a stylist with Keaton Row, an online styling company, before transitioning to the retail environment as a personal stylist with Nordstrom. Eventually, Kim noticed a huge shift with professional women who had corporate jobs, but were starting to live out their creative passions on the side; as well as with women in creative industries as their 9-5, who all needed a way to look and feel like professionals without succumbing to business casual attire or suits. She set out to help these women, as well as anyone else who wanted to look her best, through her own personal style consulting business.
Former clients and publications include:
Carolina Amato Jewelry, C2M Creatives, COCOTIQUE, Creme of Nature, Debbie Merle Designs, Examiner.com, Fro Fashion Week, GLITTERINGS, Ivori Nicole Events, Jill Zarin Jewelry Collection, Madame Noire, Melton Digital, Will Drink for Travel
ways we can work together
PERSONAL STYLING
Bridal Event Styling
Closet Consults
Guided Shopping Trips
Personal Shopping Online
EDITORIAL & COPYWRITING
Digital & Print Marketing Copy
Contributing Articles
Editorial Direction & Copy Editing
Product & Website Copy
content creation
Blog Content Calendar Creation
Food & Product Photography
Social Media Post Ideation & Planning
Social Media Strategy Consulting
Personal Styling
Your appearance is a part of your personal brand, and tells the story of how you see yourself. Whether you're on the fast track in your corporate career, an entrepreneur, a stay-at-home mom, an artist, or a creative working to carve out your own niche, what you wear communicates who you are and what's important to you. I can help you to find your signature style, create a capsule wardrobe, fill in the blanks if you have some of the pieces but need to figure out how to refine them, or save you time if you know what you want, but don't have the time to shop for it. My goal is to help you develop a very distinct wardrobe that communicates who you are and makes you look amazing but, more importantly, makes you feel like your most amazing, confident and capable self!
Content Creation
Every piece of content you create and publish for your brand should be a tiny piece of a cohesive string of messages that your customer can easily identify as a part of your story. From the content of your articles and blog posts, to your visual images and even your partnerships with varying influencers, you want your customers to be able to easily identify your company's mission and values. I love helping companies to find that sweet spot between selling to and connecting with their audiences.
Editorial & Copywriting
Savvy messaging and creative strategies can drive traffic to your website and help sell your products. You can use your website copy, product descriptions, individual and company bios, social media captions, blog posts and other targeted messaging to create an authentic connection with your audience. I can provide editorial solutions that make it easier.
Ready to get started? Let's chat!
you should look and feel like your most amazing self
My goal is always to help my clients develop a very distinct style--whether that's through clothing or content--that communicates who they are and makes them look and feel like amazing, polished, kick-butt professionals. Here, some of my current and former clients share the moments they felt just that!
what clients are saying
"My experience with Kim as a Personal Stylist was beyond my expectations. As a person who just puts on clothes, it wasn't until my business started to get a little traction that I thought hiring a Personal Stylist would be a necessary investment. Kim provided a closet consultation that allowed me to maximize the items in my closet so that I am able to save money 10x over. The benefit of her helping me determine where I can get the most wears per item and showing me how to style them was priceless. Not only was the experience useful, it was fun. Kim worked with me to pick an outfit, accessorize it, and she even made hair and make-up recommendations. Following the consultation, Kim provided detailed information on the items we discussed adding to my wardrobe and recommendations on where I could find those items. I highly recommend Kim for your personal styling needs. She is professional, has a great eye for what looks best, and makes you feel confident throughout the process."
- Zena T., personal styling client
"What I have always loved about Kim is her attention to detail. She notices things about textures, fabrics and proportions that I NEVER notice! She did a closet consult for me and helped me look at things that were collecting dust in the back of my closet in a new light. We also did a guided shopping trip. She gets me and knows what I like but also knows how to nudge me just enough to try different things. She has a gift for bridging the gap for people like me who know how we want to look, but need help executing it. I recommend her services to everyone I know."
- Gina H., personal styling client
"Yesterday I was fortunate enough to chance upon Ms. Jackson when doing frantic, last minute shopping for a special occasion later in the evening. Kim assembled not one but several outfits down to the shoes and lipstick. I walked out with shopping bags stuffed with coordinated clothes that I'll wear with confidence for work, play and future special occasions. Throughout our two or so hours together, she was imaginative, patient, organized and gracious. I'll add one more adjective for good measure: poised."
- styling client at nordstrom
"I ordered a bunch of stuff about two weeks ago; I've worn every single item! LOVE LOVE LOVE the brown leather jacket and the black peplum top with the yellow flowers. I also ordered the black wrap top from Asos and I'm wearing that right now! My co-worker took notice of my new outfits and said I've been glowing. He's complimented me on my wardrobe lately and it's because I've been taking my dress and appearance more seriously. It all started when I purchased the items from my Lookbook. Thank you so much Kim!"
- Brandi M., styling client at keaton row
"I was styled by Keaton Row stylist, Kim. Thanks to Kim I have the perfect 'go to' job interview outfit."
- Karen D., styling client at keaton row
As a mature woman in her sixties and Kim's mother, I had reservations about her picking out clothes for me. However, this past Christmas I asked her along as I purchased a couple of new outfits. I am a "suit for church" person, but this stylist convinced me to try form fitting dresses in very exciting colors, purple and dark green! Well, needless to say, whenever I wear those dresses I am a smash hit!!! I look amazing in them, to my surprise, and they pair perfectly with whatever hat I choose to wear. Thanks to Kim for styling her mother!!!
- Pattie J., Personal Styling Client
Kim helped to increase the social media presence for my newly created blog, Will Drink For Travel, while I was out of the country for 2 months. She successfully increased my Twitter following over 1000% in that short time. Kim interacted with other traveling industry professionals and pushed my blog content in a way that helped to increase my follower growth and presence significantly. In addition to increasing my Twitter following, Kim provided tips for a successful Twitter presence that I continue to implement to this day. I continuously work with Kim on the branding and the overall evolving look and feel of my blog because I trust her professional opinion. I highly recommend Kim for her social media savvy and knowledge of online branding.
- Ashlee T., social media client
As a consultant, Kim has provided me with invaluable advice on how to redesign my blog. She goes above and beyond to provide input (with personal experience) even after her services were requested. She has encouraged me and motivated me to continue to achieve my blogging goals.
- Lucy D., blog content + branding client
Ready to write your personal success story? Start here!