My Style // Midi Metallics for the Veuve Clicquot Polo Classic
I finally attended the Veuve Clicquot Polo Classic for the first time this past Saturday, and it was everything! I had so much fun twirling in the sea of the signature Veuve orange, and sipping on champy and rosé, which are always my most favorite spirited beverages of choice, no matter where I am.
I hadn't planned to attend this year, but when your cousin texts you and says, "My job is giving me tickets to the Polo Classic in NYC—wanna go?", you shave your legs, grab a dress and a toothbrush and get on the road! Well, actually these days it's more like: talk to the hubs, prep food and clothes for the baby, do her hair, and then throw some stuff in a bag for yourself while praying you aren't forgetting anything because #mombrain. But you get my drift. I was so in!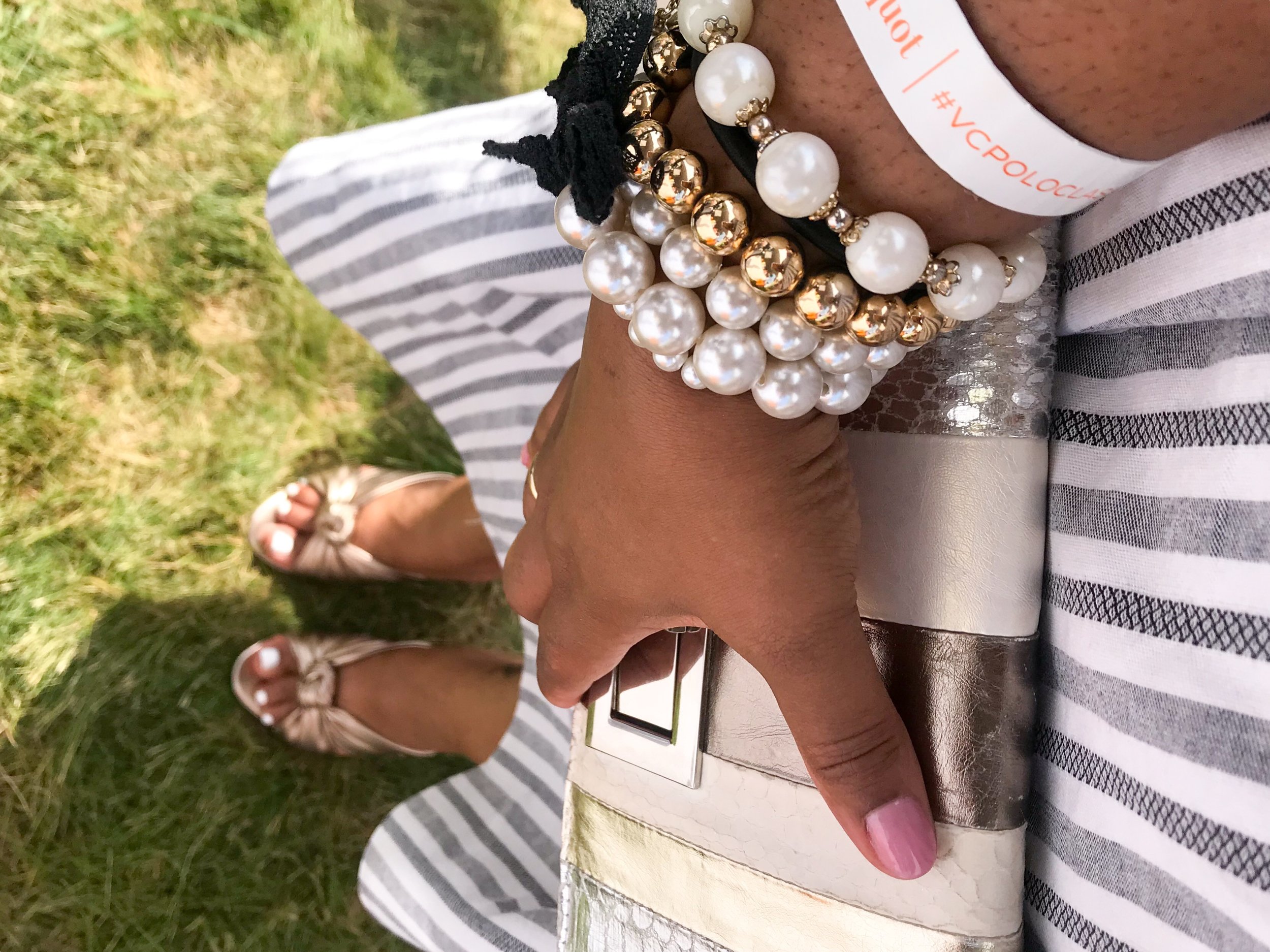 The highly instagrammed event did not disappoint in person. There was so much pretty, from the signature orange umbrellas covering the grassy knoll, to the floral photo backdrops, to the beautifully dressed people milling about, sipping their champs, and playing games like corn hole, life sized chess and life sized jenga.
Because my cousin and I were going as a twosome, we decided to forego bringing blankets or a picnic basket because we wanted to be able to move around together and not worry about saving a spot; but if you're attending with a group, that's definitely the thing to do. I have a group of friends that I attend wine festivals with every year and we always bring chairs, blankets and tons of food, set up shop early, and then buy bottles of wine to share. This is an event where it makes sense to do that with a group as well (except for the chairs, I didn't see anyone with those), and just take in the whole scene from your chosen perch. Even if you don't bring food, you'll still be able to grab a little something here and there from the food trucks on site. (None of this applies, of course, if you're in the Rosé Garden, this event's version of VIP. We weren't rolling like that this year but it's my understanding that everything in that area is provided and plentiful!)
Style-wise, nothing is off limits as long as it's ladylike or gentlemanly. We saw some really stunning and extravagant looks, and some really beautiful simple ones too. We each decided to keep it cute and simple, me in a dress and my cousin with a jumpsuit. We both had sun hats that we opted not to wear with our outfits, but I would for sure recommend one because the sun on the lawn was unrelenting in beating down on us. To that end, I'd also encourage opting for waterproof / smudge proof makeup for the day, because no one wants her face running down her couture! (If you can make that show reference, we go together! Ha). And a small handbag is easiest to carry around all day, so you're probably not bringing your full face for reapplication.
shop the style

So, to the outfit! I found this dress literally at the eleventh hour, and I wasn't entirely sold on it at first, but I ended up absolutely loving it. It fit well, it was easy to wear, it was cool, and it had pockets, which is the ultimate dress find, in my opinion. The shoes were a Target find that I had tried on before and decided they weren't right for me, but I just had a feeling they'd work with this dress, and they did—so well! Rounding out the metallic accessories, I added this gold and silver clutch that I've had FOREVER, and a rosy, oversized pair of Chloe sunnies.
Have you attended the Vueve Clicquot Polo Classic? Were you there this year? What were your thoughts? Let's dish in the comments!